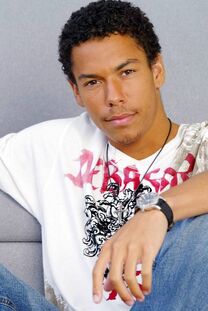 Trenton "Trent" Alcott
is a fictional minor character in the All About Us series. He is a graduate of Silver Hills High School. He comes from a biracial family. He is the older brother of main character, Alicia Alcott and he also has a little sister, Brittany.
Despite being considered popular and attractive, Trent is insecure and gets nervous occasionally, like Alicia. He has a love interest named Will Jennings.
All About Us
Edit
All About Middle School
Edit
All About Us: 30 & Hot
Edit
(To Alicia): "Hey, runt." (first line)
Trent is the older brother of AAU main character, Alicia Alcott.
He had his first kiss with Will Jennings.
Trent graduated Silver Hills High in 2005, during Alicia's freshman year.
He rescued Will during the disastrous Silver Hills Earthquake episode.
Trent attended CULA along with Will Jennings.
He and his younger sister, Alicia, both married their love interests. He married Will Jennings, and Alicia married Ryan Frankel.
He has four children with Will.

Eddie, Ricky, Ashley, and Mariah.

His sons, Eddie and Ricky were named after his father and older brother who passed away as mentioned.

Trent has nieces and nephews from his sister Alicia and sister-in-law Sierra.