How to dress like
All About Us
character
Alicia Alcott
.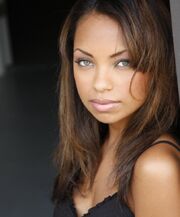 Who is Alicia Alcott
Edit
Alicia Alcott is an aspiring singer with an biracial family. She has a black father, her white mother, an girl-crazy older brother, and an adorable younger sister. She has an an and off again attraction to a cute guy who shares that same passion as her, singing.
How to dress like Alicia
Edit
For Alicia, experimenting with style is nothing new — it was hard to miss her Avril-esque duds and blue streaks in AAU flashbacks — but since entering high school and joining a band, she mixed her rock style with urban glam.
The Alicia Alcott style is a sophisticated balance of luxe materials (well-worn leather, velvet and chiffon) with urban-chic accents (zippered heels, chain-handle bags, patterned knee-highs and chunky motorcycle boots). There's always a softness to Alicia's look — she wears urban glam and rock star appeal — but she also has a rebellious streak that pushes the envelope.
Alicia Alcott Style 101:
Edit
Here's how you can take inspiration from Alicia's fashion sense:
Choose the right clothes: Alicia always wears skinny jeans with different heels and boots Also, in the earlier seasons, she wore lots of jewelry and floral tops and blouses. In the second season, she had a pendant necklace in every outfit. Whether it be a scarf, shirt, necklace, or ring, floral and statements are a must.
Layers: Alicia layers most of her clothes. She wears vests over shirts, tank tops under shirts, or tank tops over shirts. She also wear denim jackets with print tops.
Colors: Alicia only rarely wears different colors. She usually wears blue, yellow, black, green, purple, white, etc.
Hair: Hair is important. Her hair is curled most of the time but she is also seen with straight hair. She also spices up her looks with ponytails, half back, or in a bun. Just an easy and fun way to add spunk to any outfit.
But -- Alicia is sometimes too lazy to do her hair, so she would add either a hat or a headscarf, showing that you can add something stylish without fixing your hair.
Alicia's Must-haves
Edit
Middle School
Edit
Alicia was required to wear her school uniform in middle school for three years. In 6th grade, she was all plain wearing a white collar top with black jeans and sketchers shoes. In 7th grade she became more girly with an edge. She wore different kinds of jewelry with her navy polo top and add chain jewelry on her black pants and skirts. For three years, Alicia had curly hair. The new "quirky-with-an-edge" style from magazines has inspired Alicia's most recent fashion choices. Alicia is now sporting slightly more tomboyish, butch-like clothing, including leather, biker-style and studded denim jackets, tight jeans, and slouchy beanies. She has also been seen wearing fewer colourful patterns, opting for more neutral colours such as black, and shades of grey. Nonetheless, Alicia manages to offset the edginess of her outfits with lovely, eye-catching rings, necklaces, and earrings.